Spring 2022 Tuition and Fee Payment Timeline
PLEASE NOTE: We Strongly recommend satisfying outstanding balances or completing one of the following to avoid Course Schedule Cancellation for Nonpayment at 8am on Tuesday January 4th, 2022:
Pay Balance in full;
Pay balance except for amount that is pending on account associated with student financial aid
Set up a Payment Plan and pay as agreed for Spring 2022
Provide Military Funding Authorization to ASU Office of Student Financial Aid well in advance of the cancellation deadline. We also recommend these students to complete the Payment Agreement in the Touchnet Billing and Payments Portal.
Student (not parent or authorized user) logs into the Touchnet Billing and Payment Portal and agrees to the payment agreement used when the student has an identified method of payment that will cover the full cost of charges associated with attending Spring 2022 and that has timing issues that may result in cancellation if not otherwise agreed to.
DUE TO CAMPUS CLOSURE FOR WINTER BREAK, ADMINISTRATIVE OFFICES SUCH AS THE OFFICE OF STUDENT ACCOUNTS WILL BE UNAVAILABLE FOR ASSISTANCE BETWEEN DECEMBER 23, 2021 AND JANUARY 2ND, 2022.
There will only be 1 Day to assist with questions prior to cancellation due to Non-Payment on January 4th.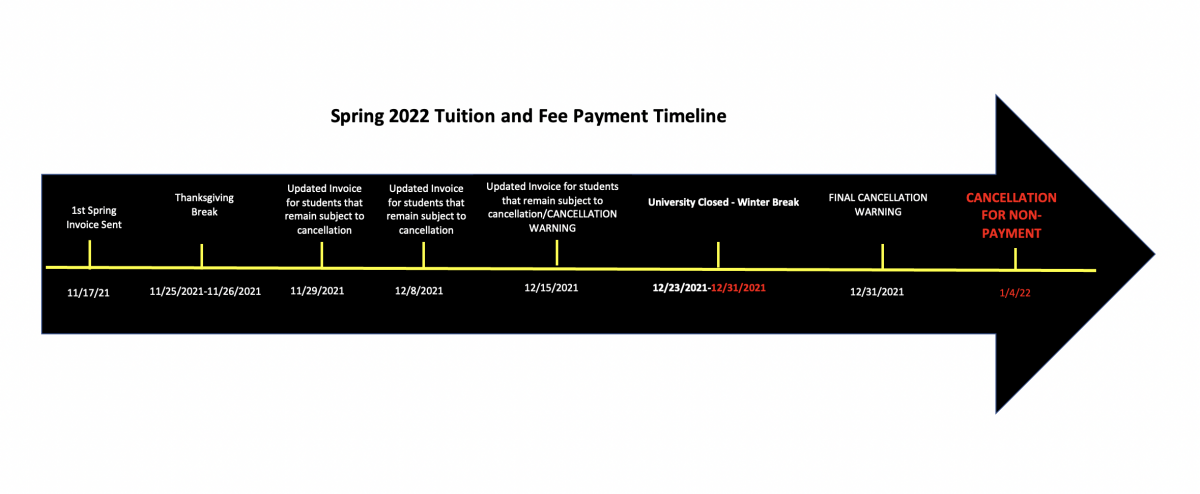 Bill Payment and Cancellation Process (Beginning Fall 2019)
Students may view and/or pay your billing statement balance by logging in to the appalnet.appstate.edu, select the student tab, then student accounts, then New Billing and Payment Center by Touchnet. Parents must be separately authorized by the student as an authorized user inside the Touchnet Billing and Payment Center. Instructions can be found on our Tutorials & FAQ webpage. Once the student authorizes a parent in the Touchnet Billing and Payment Center, the authorized user will receive 2 emails (1 includes a temporary password). The authorized user may then log in via the Authorized User Log in Webpage. Please note that this is a separate authorization than the one for the Parent Portal that requires a PIN number.
For each academic term a student must be confirmed for Bill Payment prior to starting the term. The UNC System Business Process Standards require that each student attending, must either pay their charges in advance or have an apparent funding source to cover the cost of the upcoming term. Students attending Appalachian State University, a UNC member institution, are not confirmed to attend based on their bill payment status and are subject to the UNC system mandated course registration cancellation until one or more of the following occur. You must either:
Pay balance as of your most recent statement for the upcoming term in full.
Set up a payment plan via the Touchnet Billing and Payment Center and make payments as agreed.
Have sufficient financial aid approved and pending on the student account to cover balance.
*New* Agree to the Payment Deferral Attestation Form that is a consent agreement that appears for each student upon logging into the Touchnet Billing and Payment Center. The student can choose to either consent, not consent or skip this agreement. By consenting, the student agrees to satisfy any current and future charges for the term but cannot pay by the deadline due to a timing issue with the funding source. Students with balances in prior terms may not be allowed to use this process and will be emailed if the attestation is rejected. This online consent/attestation form is available from the initial bill date for the term until the day before course registration cancellation occurs.
Within 1-2 business days the student will receive an email confirming or declining the attestation for the term. Once confirmed, you will remain confirmed for the term unless your payment is rejected or disputed by your bank.
Charges after the initial billing statement: Students are responsible for all charges on the student account as of the last billing statement that was sent. Students will receive weekly billing statements until the student is confirmed for the term. No future statements will be sent for that term until after the beginning of the term.
Medical Insurance Premium: Beginning in Spring 2020, medical insurance will not be included in the calculation to determin a student's cancellation status. It is the students responsibility to fully confirm that a waiver has been processed to avoid a medical insurance premium charge becoming a permanent non-refundable charge by the waiver deadline. The last day to opt-out of the insurance to avoid the medical insurance charge being permanent is January 31, 2020. Enrollment and waiver information can be found at ­­­­­­­­­­­http://healthservices.appstate.edu
Payment Plan: Payment plans for the 2019-2020 academic year have changed and are now available through the Touchnet Billing and Payment Center. For more information on payment plans, please visit our website at https://studentaccounts.appstate.edu/payments/payment-plans.
Withdrawals, Dropped Classes: View University policy regarding withdrawals and dropped classes.