Spring 2022 Tuition and Fee Payment Timeline
PLEASE NOTE: We Strongly recommend satisfying outstanding balances or completing one of the following to avoid Course Schedule Cancellation for Nonpayment at 8am on Tuesday January 4th, 2022:
Pay Balance in full;
Pay balance except for amount that is pending on account associated with student financial aid
Set up a Payment Plan and pay as agreed for Spring 2022
Provide Military Funding Authorization to ASU Office of Student Financial Aid well in advance of the cancellation deadline. We also recommend these students to complete the Payment Agreement in the Touchnet Billing and Payments Portal.
Student (not parent or authorized user) logs into the Touchnet Billing and Payment Portal and agrees to the payment agreement used when the student has an identified method of payment that will cover the full cost of charges associated with attending Spring 2022 and that has timing issues that may result in cancellation if not otherwise agreed to.


DUE TO CAMPUS CLOSURE FOR WINTER BREAK, ADMINISTRATIVE OFFICE SUCH AS THE OFFICES OF STUDENT ACCOUNTS WILL BE UNAVAILABLE FOR ASSISTANCE BETWEEN DECEMBER 23, 2021 AND JANUARY 2ND, 2022.


There will only be 1 Day to assist with questions prior to cancellation due to Non-Payment on January 4th.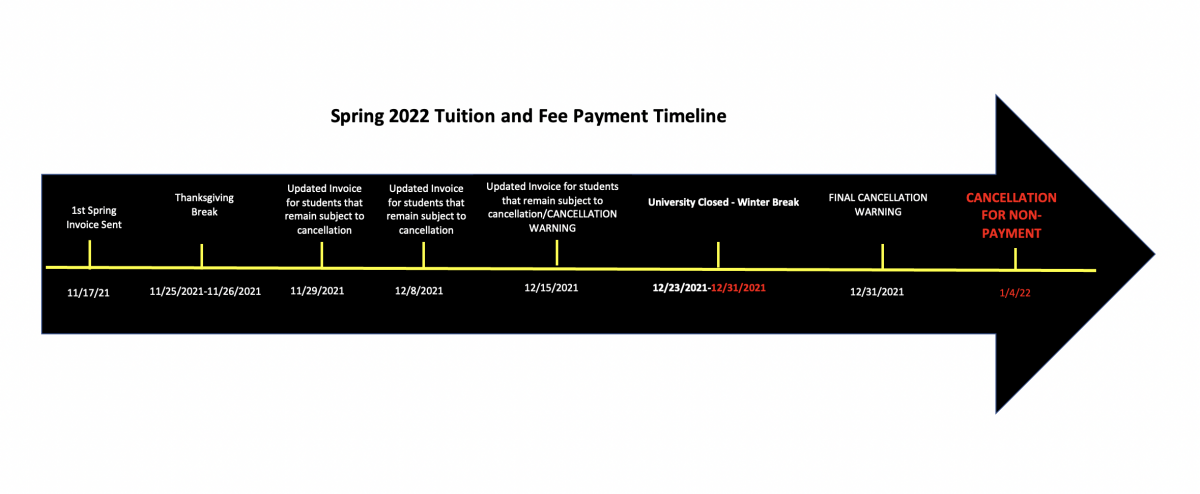 Bills are generated in July for Fall, November for Spring, and April for Summer. Additional supplemental billing is sent frequently after the first bill. All billing for current students is sent via email to the student's @appstate.edu email account. For billing to be sent to other users such as parents or third parties they must be added in the Touchnet Billing and Payment Center prior to each billing. Instructions to add authorized users in Touchnet can be found here.
Students who have left ASU and have outstanding balances on their Student account are emailed and mailed statements for two consecutive months prior to the University beginning collections activity.
For more information, click on the links provided on the left.